S2K Commerce - Products Dropdown
Actions
S2K Commerce - Shopping Cart
Actions
3.125 x 3.5 x 0.375 Beveled (B Type) Loaded Lip Seal Inch ROD SEAL
Type B Loaded Lip Seals, also known as Type B PolyPaks®, are recommended only for rod seal applications. The high lip interference combined with a beveled lip provide the driest rod sealing of these configurations. The rectangular configuration gives good down stream stability making this seal the standard of the industry. They are manufactured from high quality 90 durometer polyurethane. They are also available in other materials; consult sales office for price and availability. Temperature: -65°F to 200°F Pressure: 0 to 5000 psi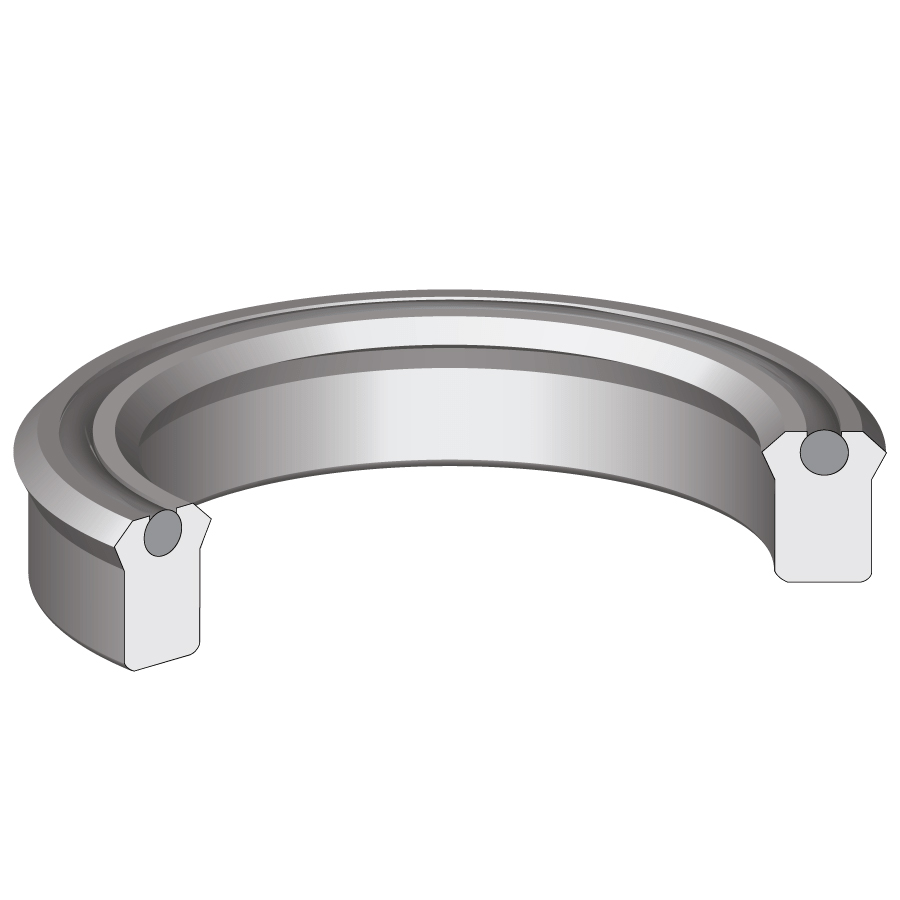 3.125 x 3.5 x 0.375 Beveled (B Type) Loaded Lip Seal Inch ROD SEAL
Allegheny York Hydraulic Seals
---
Allegheny York Hydraulic Seals and Pneumatic Seals
Allegheny York offers all the necessary elements for virtually every hydraulic seal and hydraulic cylinder seal application. Big or small, we welcome National Suppliers, wholesalers, MRO, OEM, government, repair shops, and retailers. Our products include High quality Hydraulic Seals. These include Wipers, Rod Seals, Piston Seals, Wear Rings, O-Rings, Back-up Rings, U-Seals, Rod Seals, Piston Seals, Wear Rings, Buffer Seals, Vee Packing, Retainer Rings, Wiper Rings, Oil Seals, Cushion Seals, Custom Machined Seals, Pneumatic Seals, and Aftermarket Cylinder Seal Kits for the fluid power industry.

With a large online variety of high performance seals in thousands of sizes. Whether it is small or large diameter, low or high pressure, reciprocating or rotary motion, dynamic or static sealing, a suitable product for your application is available.

We deliver seal solutions to meet the needs of every customer in a vast array of industries including: heavy industrial, mining, manufacturing, high-tech, medical, military, precious metals, natural resource extraction, processing equipment, and many more. With our material knowledge, technological capabilities, and applications experience, Allegheny York is able to offer customers both tailor-made solutions and complete sealing systems of the highest quality.

Our team knows seals—we guarantee a reliable, informed contact every time you call. We give you the advantage with competitive pricing and quick order turnaround for Any Conceivable Application.

Allegheny York specializes in custom engineered sealing solutions for numerous industries. Our innovative machine technology and experienced engineering team enable us to produce an unlimited number of seal profiles in sizes up to 38 inches in diameter.

With turnaround time as short as same day, our custom machined products meet the highest quality standards. Production systems are fast and efficient, keeping manufacturing and lead times to a minimum. Request a quote for custom machined seals.

Our advanced machining centers allow you to choose from 170 standard profiles or unlimited custom designs. We manufacture seals up to 38 inches. Custom designs and unique sizes are available in a variety of materials.

Allegheny York stocks a substantial selection of hydraulic and pneumatic seals.These seals prevent fluid leakage in hydraulic systems. We purchase quality inventory and meet stringent industry standards to provide the best available products. With one of most extensive inventories in the country, we are confident we can provide the seals you need. Standard and metric sizes are available in a variety of materials, ranging from urethanes and elastomers to engineered plastics.

We consistently source new and improved product lines, increasing our inventory to satisfy demand. We enjoy the challenge of providing solutions to the most difficult seal applications.

Allegheny York offers a wide range of aftermarket seal kits. Our knowledgeable technicians will assemble complete kits based on a manufacturer serial or model numbers. If these identifying numbers are not available, we can reverse engineer a kit product to provide the parts you need.

Since we maintain a large inventory of major industrial and heavy equipment manufacturers, turnaround time for kit orders is as short as one day. All kits meet or exceed OEM specifications.

Allegheny York's Industrial Seals Catalog makes ordering parts easy. The catalog features tens of thousands of parts with a seal profile index that will help you easily identify the seals you need. Profile sections include all the necessary material and engineering information as well as easily identifiable sizing. Our catalog is your easy to use resource for part ordering.
---
E-Mail
Sales@AlleghenyYork.com
---
Customer Service
M-F 7:30am-5:30pm EST
717.266.6617
---
Onsite Sales
M-F 8:30am-5:00pm EST
3995 N George St Ext
Manchester, PA 17345